On-Premises Laundry
On-Premises Laundry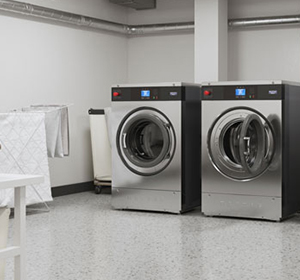 Put a new spin on efficiency with equipment from Pierce Commercial Laundry Distributors.

When Pierce Commercial Laundry Distributors (Pierce) thinks laundry, we don't just think about pounds per hour of wash production. We think about how we can make your job easier and more profitable.

Hotels, hospitals, nursing homes, health clubs, beauty salons, fire departments — no matter what the size or scope of your needs, Pierce has the right equipment choices to match. Our equipment can help you clean more laundry in less time. Our Maytag Commercial Energy Advantage™ line of washers and dryers is more efficient to help you save on utility costs. And every unit is designed to deliver dependable performance over years of continuous use — from our single-load washers and dryers to our high-speed extractors with chemical injection. That means fewer hassles, more efficiency and productivity, and ultimately a big difference on your bottom line.

Our line of heavy-duty equipment from Huebsch includes commercial washers, tumble dryers and flatwork ironers / finishers that help you respond efficiently to the challeges faced by on-premises laundry operators. Whether you're serving a nursing home, hotel, gym or other facility, Huebsch has the on-premises laundry equipment to meet your unique needs.
Pierce Commercial Laundry is also a distributor of Primus OPL laundry equipment. Primus offers one of the most comprehensive product lines available, with cutting-edge technologies built into each and every machine. These industrial grade machines are available in both softmount and hardmount in a variety of capacities to meet your needs.

What's more, you can trust Pierce to work with you to determine the right solutions for your needs. They'll help you design a new laundry room or renovate an existing one.

The Pierce team can help set up and install the equipment, and provide you with fast, reliable service to keep your operation running smoothly. That's important, especially when an uninterrupted supply of clean linens is critical to your operation. Remember, it's not just your laundry on the line — it's your business — and you can count on Pierce Commercial Laundry Distributors for innovative solutions.
For more information, please click here to contact us.